Ethos and Values
The Heath is a fully inclusive, comprehensive school where staff and students alike embrace our ethos and live our values day to day. Our values are integral to our actions and our actions are carried out to The Heath Standard.
Mission Statement
Our School Mission Statement: 'A centre of excellence where everyone has an aspiration to learn, progress and achieve. A cooperative, innovative, inclusive and dynamic community with a clear sense of purpose and pride in promoting personalised learning for all'.
The school's ethos is at the core of the home school agreement. Parents and carers are required to sign this agreement when their child joins the school as a commitment to collaborating with the school to ensure that student development and progress are its prime focus. This is also a commitment of parents and carers support of the school's policies and guidelines for behaviour and sanctions.
Care Values
The Heath School CARE Values (Co-operation, Aspiration, Resilience and Excellence) frame what it means to be a Heath student and form the basis of the pastoral care and support students receive.
We aim to develop students who are considerate, honest, polite and helpful. It is essential that all students at The Heath feel valued and safe. That they aspire, grow in confidence, are respectful, think of others and achieve their potential.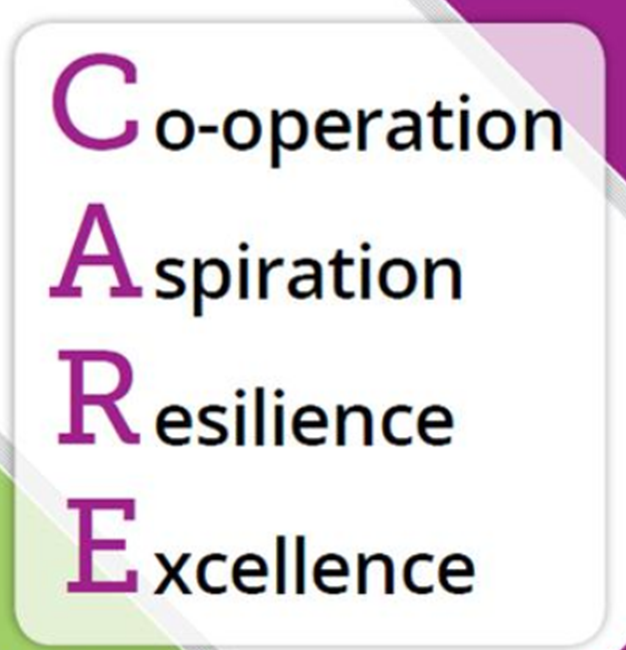 Know More, Do More, Be More
We aspire for our students to develop their whole character, to Know More, Do More, Be More:
Know more: students enjoy learning here, they are passionate to engage with our knowledge based curriculum and improve their understanding, they appreciate their teachers for the way they teach and their hard work. Our students are aspirational and cooperate with staff.
Do more: students appreciate the range of additional activities and events the school provides. They recognise the impact it has on their character. All students benefit from the range of learning experiences they are exposed to.
Be more: students leave the school to go on to be the people they want to be, doing what they want to do. This is because they have been developed all round, academically and socially – they have the skills and resilience to succeed in the future.
The Heath Standard
It's what we do and how we do it, day in day out.
It's the things that we do differently: we do what we need to do, but we also do more.
It's the things that we want to do for our students, and they want us to do for them.
We do it to our standard, that's how we show excellence.