Happy students celebrate GCSE results at the The Heath School
Staff and students at The Heath School, part of The Heath Family Multi-Academy Trust, were celebrating an impressive set of GCSE results this morning.
Across the year group, students secured a consistently high set of results which were in line, or exceeded, the results secured in 2019 – the last comparable set of GCSE outcomes. The BBC social media team were also at the school watching students celebrate their results!
Head of School, Mark Tudor, said of today's results: "I am filled with immense pride as we celebrate our hardworking students and their amazing results.
"The resilience, tenacity and commitment to learning they've demonstrated in the face the disruption they've had over the last few crucial years has truly paid off, and we couldn't be prouder of their well-deserved achievements.
"Congratulations everyone, and the best of luck with the next stage in your journey."
Some of the students with smiles on high beam today included:
Kamila Olszewska – 100% Grade 9s across eight subjects
Sian Fitzsimons – Six Grade 9s and two Grade 8s
Evie Doyle – Six Grade 9s and three Grade 8s
Lucy Birchall – Six Grade 9s and three Grade 8s
Zvezdi Angelov – Achieved an average of three grades higher than expected, totalling 8 GCSE ranging from Grades 5 to 7
Today's celebrations are a poignant milestone for one pupil, Head Student, Daniel Walsh.
After unexpectedly losing his father a few years ago, Daniel was inspired to set up a podcast providing support for young people who have lost their parents, and was recently invited to attend Parliament based on thecharity work he does as part of the podcast.
Daniel overachieved considerably in his GCSE exams, achieving 9 GCSEs ranging between grades 5-8.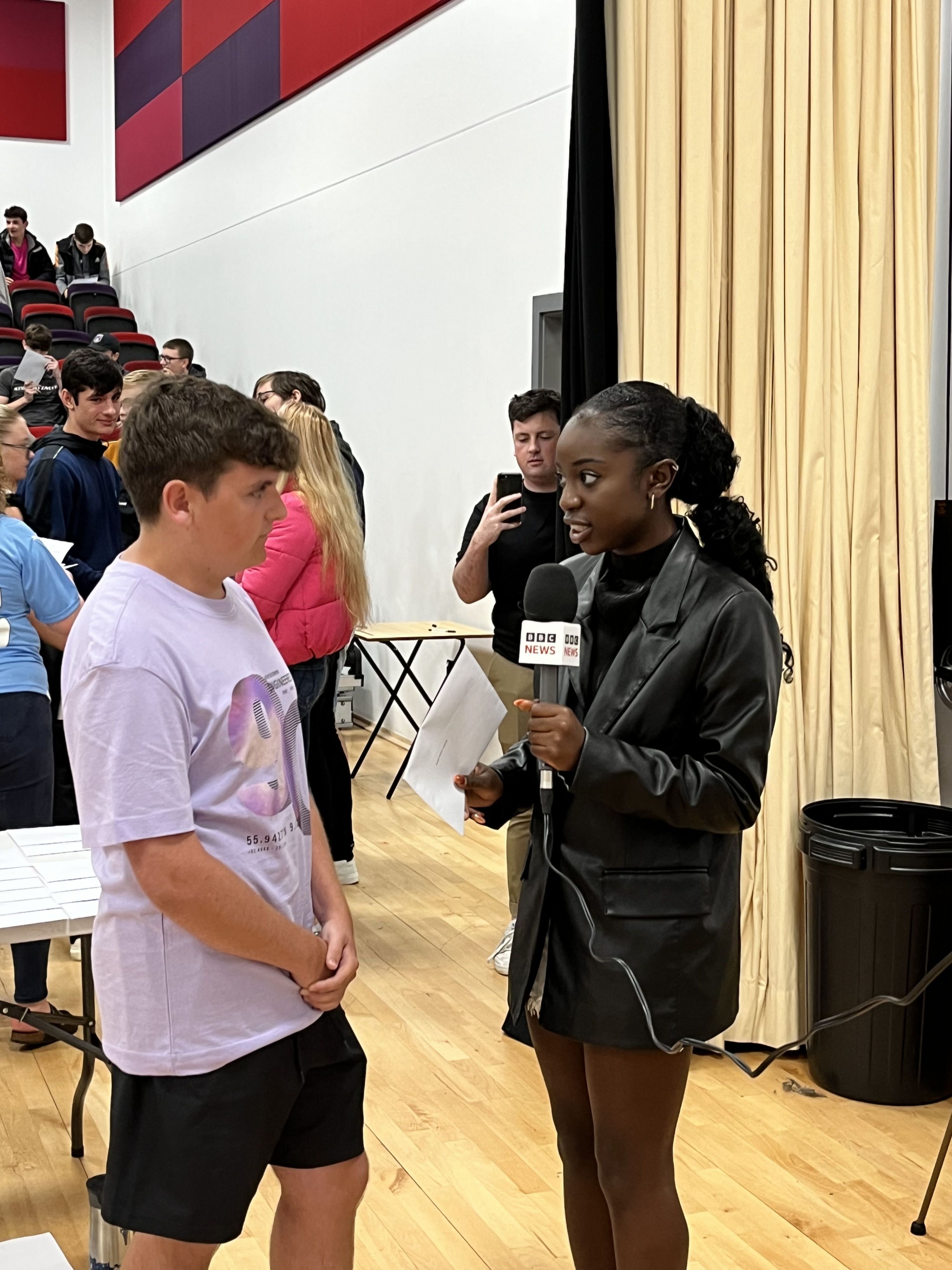 Daniel being interviewed by the BBC!
Mr Tudor added: "While these results are a testament to these students hard work and efforts, they are also a reflection of what an impressive group of young people they are. They are kind, dedicated and care about their community. I have no doubt that their future is very bright."